"With Western Union Business Solutions you get an organization that has a worldwide presence, and individuals that are willing to listen and offer solutions that are beneficial."

Aftab Ahmad, Finance & Administration Manager, Alscott Air Systems Ltd, Canada
"We have been a partner with Western Union Business Solutions for several years and have really enjoyed the personal service we receive from all of their departments. Our Relationship Manager is always there when we need him."

Val Bellmire, Operations Supervisor, Alpine Bank, USA
"[Western Union Business Solutions] have always provided us with a first class service in this highly competitive environment—helping us to provide our clients with favorable exchange rates whilst offering a reliable and efficient service."

Jesmond Mizzi, Managing Director, Jesmond Mizzi Financial Advisors, Malta
"...the speed of payments and certainty of exchange rates, together with personalized support enable significantly more effective operations. The financial benefits have raised management and employee awareness of the accounting department's contributions to the success of the company."

Björn Hendrik Seel, Head of Accounting, joachim behrens scheessel gmbh, Germany
"....it means that there's one hugely important part of our business that we're comfortable is being looked after and we can focus on selling the product...."

Suey Cooper, Founder, Soled Distribution, Australia
Take control and defend your profits today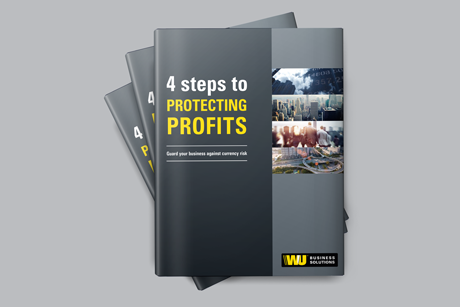 EBOOK: 4 STEPS TO PROTECTING PROFITS
Have you prepared a risk management strategy to help protect your business? Here are four simple steps to building a solid strategy.
Get your eBook
EBOOK: HOW TO LOWER COSTS WITH LOCAL CURRENCY PAYMENTS
Paying international suppliers in US dollars is not the only option and, in many cases, it may not be the best option.
Get your eBook
How we make the business of money better
Cash Management
Take control of cash flow
Get the right information to make sound decisions. Know your currency exposure. Quickly forecast cash flow.
International Payments
Grow your business faster
Accelerate your growth. Make transactions in multiple currencies and formats to over 170 countries and territories.
Risk Management
Protect business profits
Work with our risk management specialists to build a simple plan to help manage currency exposure and contain currency costs.
The latest rates & intelligence
Sorry, our Calculator is experiencing technical issues and is currently unavailable. Try again later.
$50,000.00
USD - United States Dollar
1 USD = 7.63 EGP
£381,530.00
EGP - Egypt Pound
1 EGP = 0.13 USD